2 MIN READ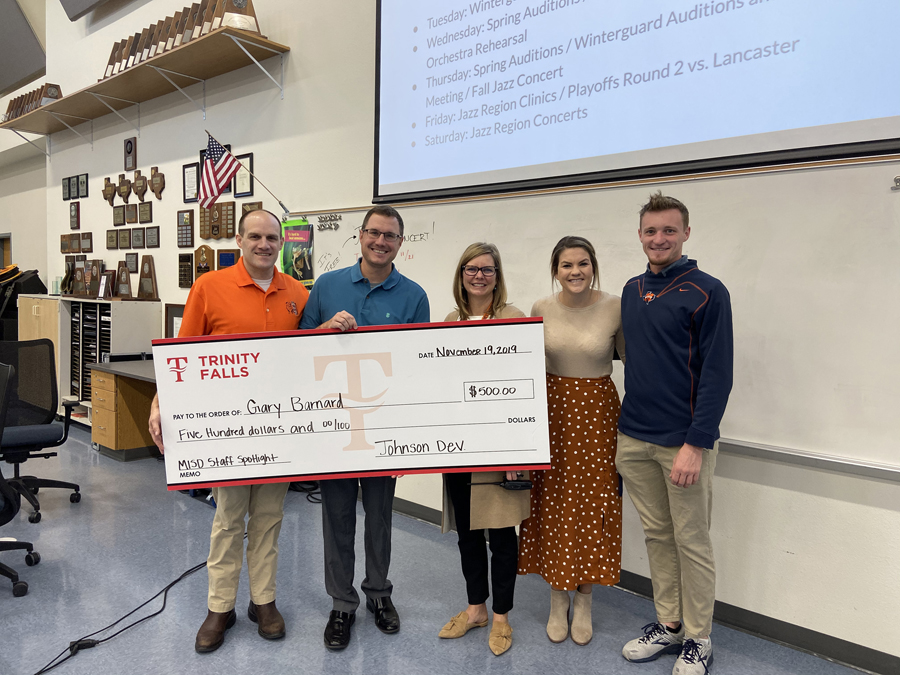 Trinity Falls Surprises McKinney North Band Director With $500 Award
The band director for McKinney North High School received a surprise recently when he was awarded a $500 donation from Trinity Falls.
Gary Barnard received $500 as the winner of Trinity Falls' MISD Staff Spotlight award. The quarterly promotion takes nominations from residents of Trinity Falls for deserving teachers or staff members at the three schools serving the McKinney-area community: Press Elementary, Scott Morgan Johnson Middle School and McKinney North High.
Barnard was caught completely off guard when Principal Jae Gaskill and Trinity Falls Marketing Director Natalie Rosser showed up to band rehearsal and presented him with the gift.
"I'm not 100 percent sure yet what to do with the funds," Bernard said. "I've asked for student input. We all seem to think investing in items to help with logistics and efficiency would be a great way to spend the money."
Shannon Pierce, who nominated Barnard, said he creates a positive atmosphere for band members.
"He came to us after school let out for the year and fully immersed himself in getting our students ready for competition season," she said in her nomination. ""
Barnard has been a teacher for 14 years, but this is the first year he has taught at McKinney North. Prior to joining the district, he spent time in Carroll ISD, Denton ISD and Birdville ISD.
"This community is very special," he said. "I've only been here a short time, but the warmth and supportive nature of the staff, parents and students is tangible. It is an awesome place to experience high school."
He says he is blessed to be able to share his passion with his students.
"Band has a special place in my heart," he said. "I'm not sure what I'd be doing for a living if it wasn't for music and band. Music has brought so many special people into my life and allowed me to see so much of the world. Being a band director has been a life-changing experience."
Barnard played tuba and guitar in high school and at the University of Texas at Arlington where he graduated Magna Cum Laude with a degree in music, He went on the get a master's in Educational Administration from the University of North Texas.
He believes the arts provide a safe place for students to flourish and grow.
"The arts teach and foster creativity, teamwork, discipline, self-discovery and patience," he said. "Work done in art classes absolutely transfers to core classes. The work we do in the band hall prepares students to be highly functioning members of the community."
In the end, it is his students that make it all worthwhile.
"I love how kind, dedicated, curious and humble they are," he said. "How they truly care for each other and truly enjoy making music."
Trinity Falls is located just northwest of McKinney a few minutes from McKinney North High School. Ten builders offer homes priced from the $230,000s to the $600,000s.
SUBSCRIBE TO THE BLOG
Most popular posts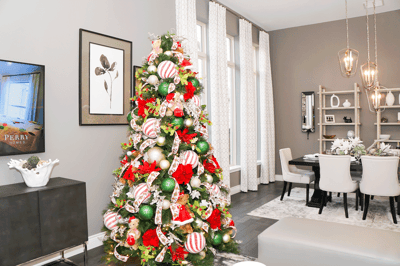 More Posts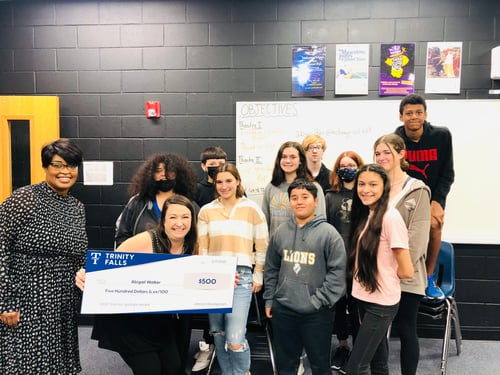 Scott Johnson Middle School drama teacher Abigail Walker is this quarter's recipient of the Trinity Falls MISD Staff Spotlight award.
READ MORE
TOPICS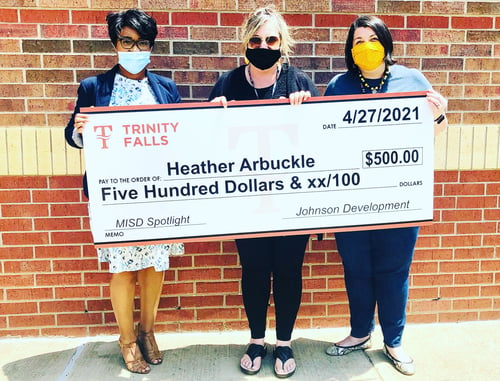 Press Elementary third-grade teacher Heather Arbuckle received $500 as the winner of our quarterly promotion, which honors deserving teacher...
READ MORE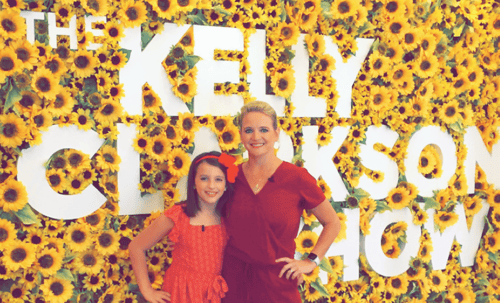 Trinity Falls resident and Press Elementary student Maddie White may only be in the fifth grade, but despite her tender years, she's learned...
READ MORE